How is your "fruits and vegetables of the week" challenge going?
Did you remember?!
In our coaching tip a couple of weeks ago, we encouraged you to enjoy a variety of colorful fruits and vegetables this month.  And this week, blueberries would be a perfect choice!
We picked some up at the farmers' market on Saturday and have been savoring them in all kinds of delicious ways!
Why blueberries?
When it comes to food, there are many examples of good things that come in small packages.
This is definitely true for blueberries!
They may be small, but they are big on flavor and nutrition, which is why...
this is the perfect time to enjoy blueberries!
Where do blueberries come from?
Blueberries began their farm-to-table journey in North America in 1916, so they officially celebrated their 100th birthday just a few years ago!  They were initially just used for medicinal purposes and as a natural flavoring.  Then, in 1916, the first commercial crop of blueberries was sold in New Jersey.
The North America season for blueberries is April through late September.  You can likely find blueberries from local growers or farmers' markets; however, the season for local berries is likely to be much shorter.  Most U.S. states grow blueberries commercially; however, there are 10 states that account for 98% of the U.S. consumption.  Washington, Georgia and Michigan top the list.  Then, imports from Mexico and South America (countries like Chile, Peru, Argentina and Uruguay) fill our stores from October through March.
Blueberries grow on bushes that are often planted in rows, and can be anywhere from a few feet tall to more than 10 feet tall!  In the spring, clusters of white blossoms pop up, are pollinated by bees, and then each blossom turns into one berry.  They are hard and green at first, and then turn reddish-purple, and finally blue and sweet.
Why are blueberries important for our health?
With only 80 calories, no sodium and no fat, just 1 cup of blueberries makes up over 15% of our daily need for Vitamin C.  Blueberries are also loaded with other vitamins and essential nutrients, such as fiber and Vitamin K.  But that's not all!
Blueberries contain powerful antioxidants, known as anthocyanins, that give foods like blueberries, cranberries, eggplant and red cabbage their deep, vibrant color.  Blueberries are one of the best foods on the planet when it comes to destroying free radicals.  They contribute to big health benefits such as reducing the risk of obesity, diabetes and heart disease, and more...
Help lower blood pressure - loaded with potassium, calcium, and magnesium, they act as a natural blood pressure medicine!
Prevent cancer - the antioxidants found in blueberries help inhibit tumor growth and decrease inflammation.
Improve mental health - blueberries have been considered "brain berries" for their ability to combat the mental aging process.
Aid in healthy digestion - because they are high in insoluble fiber, blueberries can help keep us regular and prevent digestion disorders.
Fights wrinkles!  Collagen in our skin relies on Vitamin C and antioxidants to help prevent damage.  The Vitamin C in blueberries helps promote collagen's ability to smooth wrinkles and improve overall appearance.
Ward off bladder infections - like cranberries, there are compounds found in blueberries that can help prevent bacteria from adhering to bladder walls, which can lead to infections.
How do you choose blueberries?
When selecting blueberries, they should be firm, dry and plump, with smooth skins.  Size is not necessarily an indicator of maturity.
You should also pay attention to the color – look for deep purple to bluish-black.  Reddish colored blueberries are not ripe yet.
Avoid soft shriveled blueberries, and juice stains may indicate the berries are bruised or damaged.
How do you store blueberries?
When you purchase fresh blueberries, store them in the refrigerator and rinse and eat within 10 days.  For best results, you should rinse blueberries just before eating.  But, if you decide to rinse right away, just be sure to dry them well before placing in the refrigerator to eliminate excess moisture which can cause them to deteriorate faster.
Blueberries also freeze beautifully!   It's your choice whether to wash them before or after freezing...just make sure they are dry before freezing.  When you thaw frozen blueberries, plan to eat them within 1-2 days for best results.
What can you do with blueberries?
This is the best part!  Fresh, in-season blueberries are literally bursting with flavor and are delicious in meals any time of the day – breakfast, lunch, dinner, snacks and even dessert!
One of our all-time favorites (and a favorite of so many Eat REAL America members) is the Sweet Surprise Corn Salad - it is mind-blowingly delicious!  Especially right now with all the freshly harvested in-season ingredients!
In a cooking demo at the farmers' market this past Saturday, one of the attendees said, "I was completely against the idea of putting vegetables and fruits together, but the flavor combination in this salad is delicious.  I am shocked!"
Check out our video to see how easy it is to prepare...
Here are some of our other favorite blueberry ideas: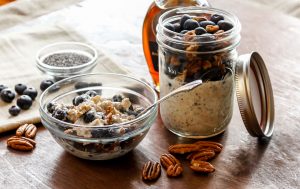 Fruit Topped Dutch Baby Pancake
Blueberry Lemon Breakfast Cookies
Banana Oat Pancakes with Blueberry Sauce
Watermelon Blueberry Salad
Blueberry Corn Panzanella Salad
Salad with Addictive Spicy Pecans and Berries
Blueberry Apricot Spinach Salad
Grilled Chicken Sandwich with Basil and Blueberry Sauce
Goat Cheese Chicken with Blueberry Salsa
Pork Chops with Blueberry Ginger Relish
Red, White & Blueberry Popsicles
Mixed Berry Banana Ice Cream
Red, White, and Blueberry Spritzer
Buyer Beware!  
Keep in mind, blueberries are often used to create a "health halo" for processed foods like granola bars, muffins, cereals, yogurts and more.
Remember to take a look at the ingredients!
The "blueberry puree" found in the ingredient list in many processed foods could really just be a combination of sugar, corn syrup and food coloring...no blueberries at all!  Keep reading those ingredient labels to make sure you are getting the REAL deal!
This is the perfect time of year to add blueberries to your meals and snacks…and to enjoy all the benefits these powerful little fruits have to offer!
Take the challenge and try blueberries - and other in-season fruits and vegetables - in different ways every week in July.
What better way to enjoy the flavors of summer?!