Salad Dressings
---
POSTED: January 29, 2019
Can a food be an amazing flavor enhancer while helping you control blood sugar and lose weight? YES! Vinegar is a perfect example! Last week, we told you about the life-changing ...
READ ARTICLE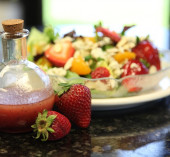 POSTED: January 22, 2019
Can salad dressing make or break a great salad? Salads are part of almost every meal in our home.  Of course, quality REAL ingredients are a big part of phenomenal salads, and we believe the ...
READ ARTICLE