Pantry Staples
---
POSTED: July 6, 2021
Why all the vinegar choices at the store? And, what about all those bottled salad dressings...can they be part of a healthy lifestyle? Continuing our grocery store tours, we want to ...
READ ARTICLE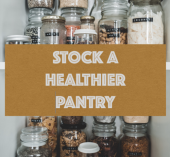 POSTED: October 21, 2013
The kitchen pantry. It's the go-to for food and all those essential cooking ingredients.  We have all come across that ingredient that hasn't been used in months, OK, maybe years, and we can't ...
READ ARTICLE