Toasting Nuts
---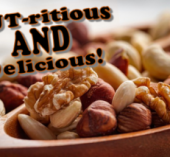 POSTED: February 23, 2021
Do nuts make a regular appearance in your meals? We often hear people say they avoid nuts because they are "too high in fat" or "have too many calories." Nut lovers rejoice! Enjoyed in ...
READ ARTICLE
POSTED: July 23, 2019
Want a super-simple way to add another level of flavor and texture to your meals? No fancy equipment required, and it can be done in a matter of minutes!  You can even delegate this simple task ...
READ ARTICLE